Char Dham Yatra Tour Package From Vadodara
Char Dham Yatra tour package from Vadodara to Haridwar, Yamunotri, Gangotri, Kedarnath and Badrinath and other midway destinations like Barkot, Guptkashi and Uttarkashi is a spiritual journey to Temples of Uttarakhand.
Char Dham Yatra Tour Package From Vadodara
Explore the mythological sites, old temples as well as holy rivers and experience spirituality in real. You can customize the tour package to add any number of days, popular destinations and excursions and some amazing adventures and activities.

Char Dham Yatra tour package from Vadodara takes you from Gujarat to the Devbhumi Uttarakhand where there are numerous holy abodes hidden in the folds of Himalayas. Located on the banks of glacier-spawned holy rivers, the four main shrines of the package are of great veneration for the devotees belonging to three major Hindu sects – Vaishnavism (Badrinath Temple), Shaivism (Kedarnath Temple) and Shaktism (Yamunotri Temple and Gangotri Temple). It is like discovering Hinduism through the religion's mythological, historical and cultural wealth.

The fact that each of these shrines is located at high altitudes enjoying the Himalayan panorama adds to the excitement of taking the Char Dham Yatra tour package from Vadodara. Almost at every footstep, you would be close to a lively river or a hot water spring or a snow-covered peak or a verdant meadow. You would also enjoy the thrill of trekking the hilly terrain full of natural splendour and riding helicopter to view the paradisiacal landscapes from the top. Add more to the excitement with nearby destinations and wonderful activities in the package. WaytoIndia is happy to promise you an extraordinary holiday and pilgrimage experience you would cherish for long.


Day By Day Tour Plan For Char Dham Yatra tour package from Vadodara

[accordion]
[accordion_content title="Day 01: Vadodara to Haridwar (by air/rail)"]
The Char Dham Yatra tour package from Vadodara starts when you arrive in Haridwar from Vadodara. The road trip between the two places can be extremely long and tiring as they are about 1,230 km. apart. So, the best options would be Vadodara to Haridwar by rail or air. You can take assistance from the WaytoIndia team to book flight or train tickets online at the best prices possible. Given below are some of the popular rail and air routes you may choose to travel from Vadodara to Haridwar.


How To Reach Vadodara to Haridwar By Train:
There are 4 direct trains from Vadodara that would connect you to Haridwar. The fare is INR 555 for Sleeper class and INR 2,095 for AC 2nd class. Here are the details about each one of them:
Mumbai Bandra – Dehradun Express: It departs from Vadodara at 06:55 a.m. and reaches Haridwar at 02:20 p.m. the next day. It operates on all days of the week.
Valsad – Haridwar SF Express: The train operates only on Tuesday. It starts from Vadodara at 06:50 p.m. and reaches Haridwar at 04:15 p.m.
Bandra Terminus – Haridwar SF Express: The train leaves Vadodara Junction at 07:00 p.m. and reaches Haridwar at 03:50 p.m. It operates only on Wednesday.
Kochuveli – Dehradun SF Express: The train leaves Vadodara Junction at 07:10 p.m. and reaches Haridwar at 03:50 p.m. It operates only on Sunday.
Other rail route options include connecting trains from Vadodara to Delhi and then from Delhi to Haridwar. You may also consider travelling by train up to Delhi and then travel by road to Haridwar.
Flights Between Vadodara and Haridwar/Dehradun
Vadodara Airport is one of the busiest in the state of Gujarat. The closest airport to Haridwar is Jolly Grant Airport Dehradun, about 40 km. away.
The closest international airport is at Delhi which is about 230 km. from Haridwar. At present, there are no direct flights between Vadodara and Dehradun.
So, you must travel by air to New Delhi first and then choose either to board a connecting flight to Dehradun or travel by train or road to Haridwar. Here are some connecting flights currently available from Vadodara to Dehradun:
Jet Airways operate flights at 10:25 a.m. and 01:00 p.m. The overall flight duration, including the transit waiting time, may vary between 5-24 hr.
There is an Air India flight at 08:20 p.m. from Vadodara to Dehradun with a halt at New Delhi.
IndiGo operates a flight which departs from Vadodara at 07:10 a.m.

The airfare between the two destinations is INR 4,000-6,500 depending upon how early you book the air tickets.

Another worthwhile option is to drive to Ahmedabad from Vadodara(about 115 km by road) and fly to Dehradun from Ahmedabad.Spicejet operates its flight SG 2937 between Ahmedabad and Dehradun and flight SG 2938 between Dehradun and Ahmedabad.
Important: Kindly keep us informed about your travel schedule
Make sure that you inform us about your travel schedule so that our representative for Char Dham Yatra tour package from Vadodara can escort you to your hotel in Haridwar from the designated point.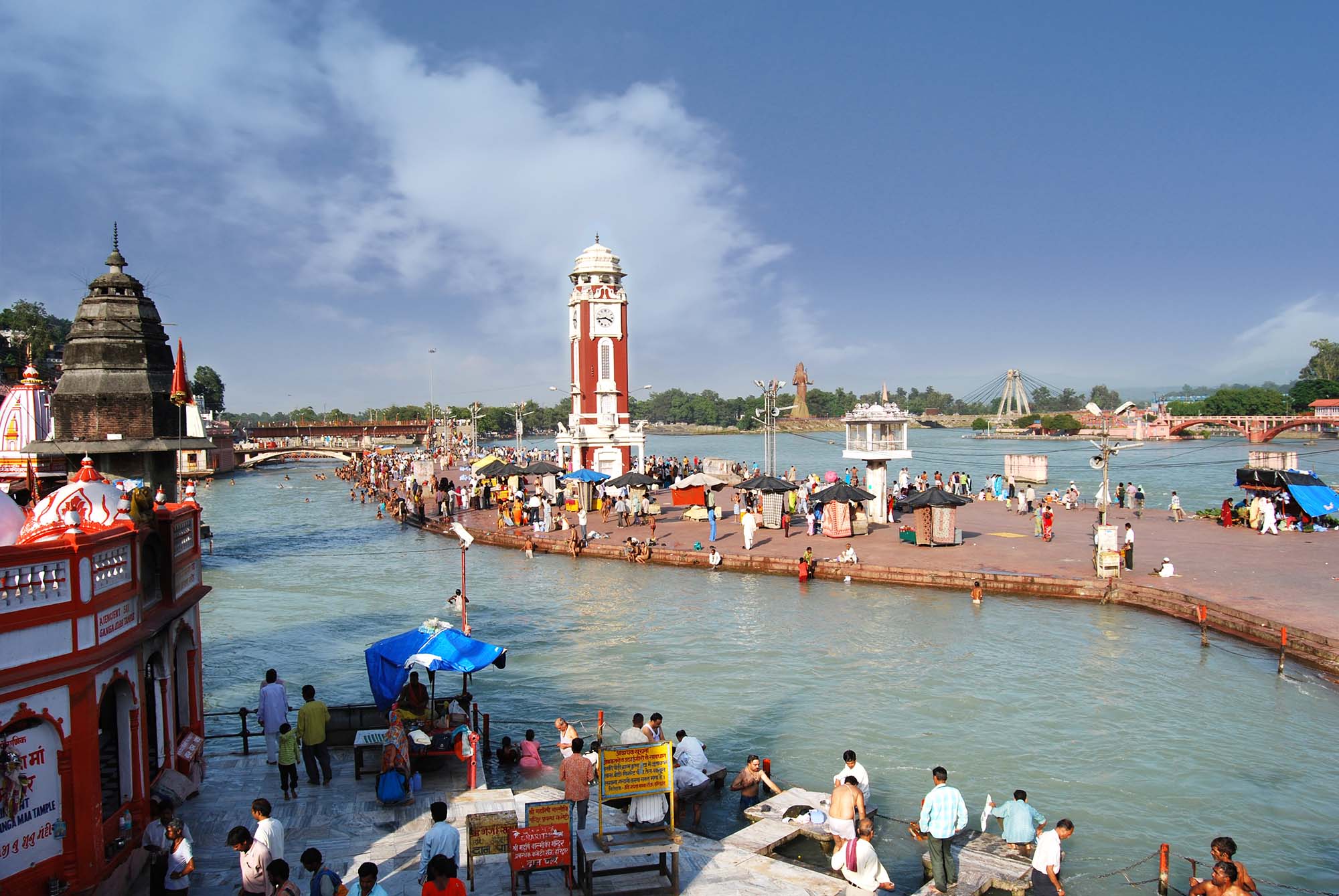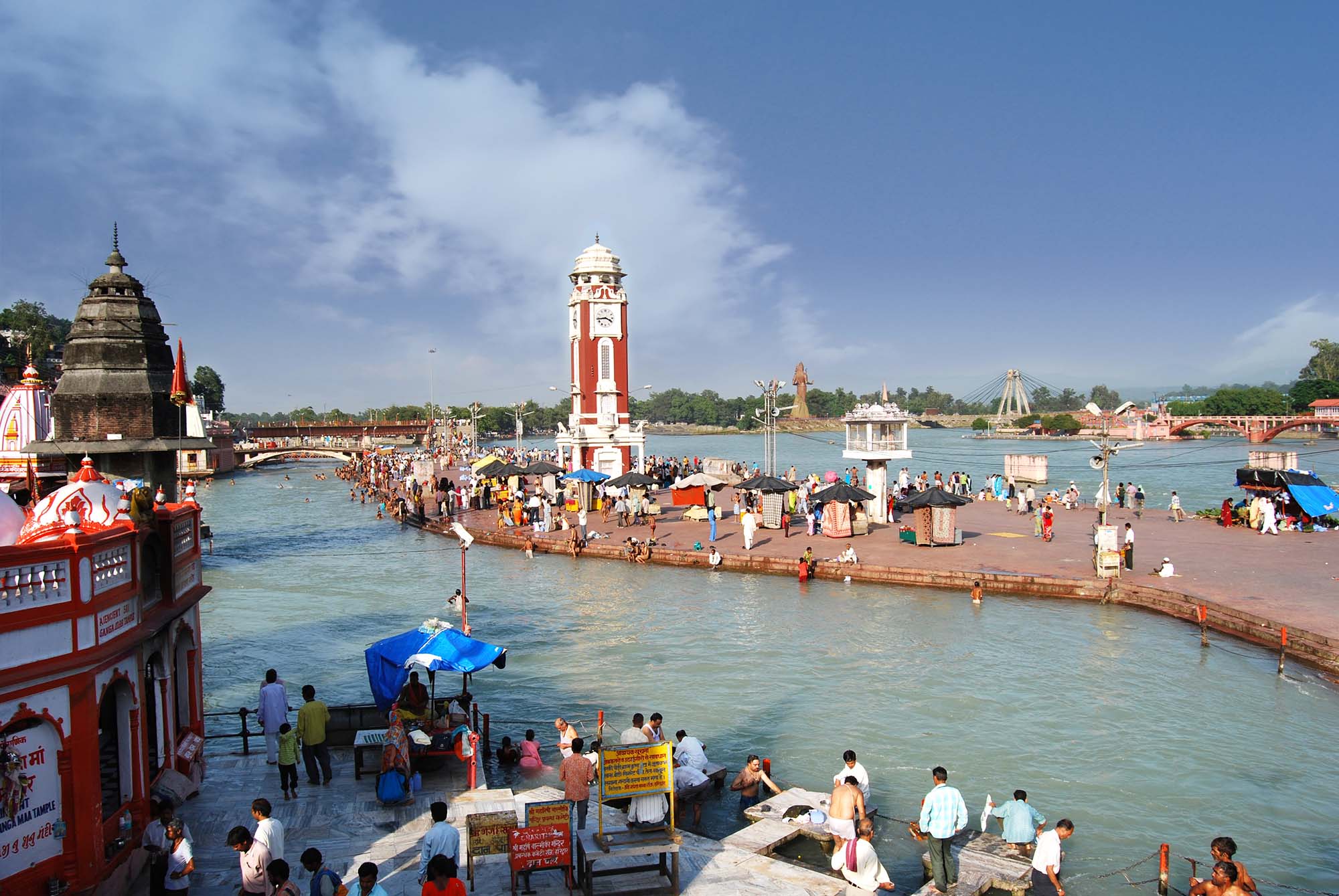 The holy town of Haridwar is known for more than one reason. Apart from being River Ganga's first destination in the Northern Plains, it is one of the four hosts of Kumbh Mela. There are temples linked to the tales of Shiva and Sati and those associated with the Goddess Shakti who took several avatars to slain the demons. Every day, hundreds of people visit Haridwar to immerse the ashes of their family members or to perform rituals for departed souls. Taking a dip in the salvation-awarding Ganga is indeed life-changing and so is the evening aarti of the Goddess River.
After you take some rest at the booked hotel, we suggest you to explore the attractions like Mansa Devi Temple and Chandi Devi Temple (both accessible by thrilling ropeways), Bharat Mata Temple, Bhimgoda, Kankhal, Ganga Temple, Maya Devi Temple and of course, the magical Ganga aarti at the sacred Har-ki-Pauri ghat.
The night stay would be at Haridwar only.
[/accordion_content]
[accordion_content title="Day 02: Haridwar to Barkot (176 km.)"]
The next day schedule of Char Dham Yatra tour package from Vadodara would be Haridwar to Barkot, a beautiful hill town located close to the first holy shrine Yamunotri.
Barkot might not be as popular as the nearby popular hill station Mussoorie, but this helps it retain its unique charm. River Yamuna humbly breaks the silence of nature and birds melodiously synchronize to create the overwhelming symphony. While these are music to the ears, the sight of towering Bandarpoonch Peak is a treat to the eyes.
On arrival, we escort you to the booked hotel so that you can relax after a tiring road trip. Later, you can visit Yamuna's banks or enjoy the visual treat of chaos-free mountain sceneries. The local markets sell Tibetan artefacts, paintings, woollens and other things you may like to purchase. The night stay would be at Barkot only.
[/accordion_content]
[accordion_content title="Day 03: Barkot – Yamunotri (50 km. by road and 6.5 km. by trekking) – Barkot"]
An exciting day of Char Dham Yatra tour package from Vadodara arrives as we embark on the journey to the first destination of the pilgrimage. Yamunotri Temple is the abode of Goddess Yamuna from where she begins her voyage as a holy river, sanctifying numerous places on the way. The temple is approachable by trekking from Janki Chatti (earlier the trek started from Hanuman Chatti).
As we drive you to Janki Chatti alongside the river, you would feel the divinity and nature greeting you at every footstep. It only gets better as you take dip in the hot water springs before beginning the trek and feel blessed. Admiring the nature's beautiful facets throughout the trek, you finally arrive at the temple which has a boiling water spring called Surya Kund (named after Yamuna's father Surya or Sun) nearby. Boil rice and potatoes here and offer them to the goddess. Also known as Kalindi, Yamuna is worshipped here in the form of a black idol, along with the white idol representing Goddess Ganga. After praying at the temple, get back to Janki Chatti and finally to Barkot for night stay.
[/accordion_content]
[accordion_content title="Day 04: Barkot – Uttarkashi (80 km.)"]
After Yamunotri, the second main temple of Char Dham Yatra tour package from Vadodara is Gangotri. From Barkot, we drive to Uttarkashi near the dham for the night stay. Located in the region between rivers Asi and Varan, the town has River Bhagirathi descending from Gangotri and travelling downhill to join other rivers to form Ganga.
Uttarkashi is the seat of Lord Vishwanath (Shiva) who resides in Vishwanath Temple in the form of a swayambhu lingam. An amazing highlight of the temple is the giant trishula (trident) which can be surprisingly vibrated with just a finger. Visit the temple and other attractions that include Nehru Institute of Mountaineering, Manikarnika Ghat and Kuteti Devi Temple. Find out more about the destinations and activities near the town from our Uttarkashi travel guide. The night stay would be at Uttarkashi only.
[/accordion_content]
[accordion_content title="Day 05: Uttarkashi – Gangotri (100 km.) – Uttarkashi"]
As the Char Dham Yatra tour package from Vadodara continues, we drive you to Gangotri Temple, the seat of Goddess Ganga. It is believed that King Bhagirath (an ancestor of Lord Rama) pleased the goddess through tough penance here with the intention to bring her on earth. It is also believed that Lord Shiva first held Ganga in his matted hair here as the earth was not capable to directly bear the river's force.
As you arrive at the temple, you would be captivated by the cleanliness and mysticism of the place. You may take holy bath in River Bhagirathi before praying to the white idol of Goddess Ganga inside the white granite temple. If you visit the place in the start of winters, you would also see the Jalmagna (water-submerged) Shiva Lingam. After the heart-warming experience at this dham, we drive back to Uttarkashi for night stay.
[/accordion_content]
[accordion_content title="Day 06: Uttarkashi – Guptkashi (199 km.)"]
After Gangotri, you would visit the holy abode of Lord Shiva located in Kedar Valley and called Kedarnath Temple.
As you would be travelling to the shrine in helicopter, we would arrange accommodation at Guptkashi.
The town in itself is a pilgrimage destination as it hosts numerous temples and religious sites. River Mandakini, which starts its journey from Chorabari Glacier, flows by Kedarnath Temple and reaches Guptkashi. The town has another Vishwanath Temple and another shrine of Lord Shiva, called Ardhnarishwar Temple.
One not-to-be-missed attraction is the Manikarnika Kund which is formed by two small underground streams, believed to be River Yamuna and River Ganga.
You would have enough time to explore these attractions after checking in at the booked hotel. Guptkashi is also the gateway to Panch Kedars (five shrines of Shiva) which apart from Kedarnath include Tungnath, Rudranath, Madhyamaheshwar and Kalpeshwar. You may discuss with us in advance if you wish to include these temples in Char Dham Yatra tour package from Vadodara. The night stay would be at Guptkashi.
[/accordion_content]
[accordion_content title="Day 07: Guptkashi – Phata (by road 15 km.) – Kedarnath (by helicopter) – Phata – Guptkashi"]
As scheduled, today you would be flying to Kedarnath Shrine in a helicopter. After the old trek route was completely damaged in 2013 flash floods, the new trek route constructed is about 15-16 km. in length. So, it is not possible for all to undertake this trek and hence, helicopter is a great alternative which also saves a lot of time.
Drive from Guptkashi to the Phata Helipad and get in the helicopter. The ride of about 10 min. promises the spectacular views of Kedar Region with green pastures on one side and hoary Himalayan peaks on the other.
After you get down at Kedarnath helipad, it takes about 10 min. walking to reach the temple. Pray at the temple where Shiva resides in the form of a conical lingam, counted among 12 Jyotirlingas (pillars of light). You would have 1.5 hr. before the helicopter takes you back to Phata from where you would get back to the hotel at Guptkashi for night stay.
[/accordion_content]
[accordion_content title="Day 08: Guptkashi – Badrinath (186 km.)"]
After Yamunotri, Gangotri and Kedarnath, you continue the clockwise circumambulation as we drive you from Guptkashi to the last dham of Char Dham Yatra tour package from Vadodara called Badrinath. Here, you would seek blessings from Lord Badrinath (Lord Vishnu) who resides in the temple as a black shaligram idol. It is believed that the self-manifested idol was discovered in River Alaknanda which flows by the temple.

As you arrive at Badrinath Town, we escort you to the booked hotel. As the evening descends, we take you to the beautiful temple where you pray to the lord and attend the evening aarti. Later, you may roam across the town and purchase souvenirs from the local bazaars. Finally, retire to the hotel for night stay.
[/accordion_content]
[accordion_content title="Day 09: Badrinath Temple – Rudraprayag (155 km.) "]
Feel blessed as you get another opportunity to visit Badrinath Shrine the next day and attend the early morning aarti. However, the aarti is performed as early as 04:00 a.m. and you need to get up early if you wish to attend it. Next, we take you to Tapt Kund, where you can bath in the relaxing hot spring water to wash away the tiredness and sorrows of life.
In the Char Dham Yatra tour package from Vadodara, we include some of the top attractions near Badrinath Temple.These include Vyas Gufa and Ganesh Gufa, the two ancient caves where Mahabharata is believed to have been written. Only about 4-5 km. from the temple is the last inhabited village of the region, called Mana where you would find many sites associated with Pandavas. Vasudhara Falls, Charanpaduka, Narad Kund etc. are other attractions that we would help you to visit depending on the time available. At the end, drive to Rudraprayag where you would stay for the night.
[/accordion_content]
[accordion_content title="Day 10: Departure"]
After darshan at all four dhams of Char Dham Yatra tour package from Vadodara, we are ready for the departure. As per the decided schedule, we drive you to Haridwar or Delhi from where you can start the connecting journey to Vadodara.
[/accordion_content]
Travel Tips: Want to learn more about Char Dham Yatra tour package from Vadodara itinerary?Here are some travel tips to help you plan better:
We would soon update the Char Dham Yatra dates (expect it to begin in early May 2019 and end during the festival of Diwali).
Make sure you book everything at the earliest. Apart from booking the package, register for the yatra and book air or train tickets as well as aartis and poojas in advance. We offer assistance in this.
Photography is strictly prohibited inside the temples.
If you don't wish to return the same day from Kedarnath, let us know in advance. We can book accommodation near Kedarnath Temple and the next day helicopter ride as well.
Make sure that you don't pack more than 2 kg. For the helicopter ride.
For better connectivity, take 2-3 SIMs from different network providers like BSNL, Jio and Vodafone.
If weather is a concern, take recommendations from our team. The best months for the yatra are May-June and mid-Sept till the yatra ends. July to mid-Sept is monsoon time and should be best avoided.
Make sure you get yourself medically examined before the trip. Your doctor would recommend you whether you should perform the yatra or not. Please inform him/her you health conditions like heart issues, diabetes, abnormal blood pressure and so on.
Palanquins\nand ponies are available for trek to Yamunotri. Helicopter rides can also be booked to the other three dhams apart from Kedarnath.
Alcohol,\neggs, non-vegetarian food and smoking is strictly prohibited at all the temple\ntowns.
You can also book your Char Dham Yatra Tour Package By Helicopter by writing to us on info@waytoindia.com.