Char Dham Yatra Tour Package From Kolkata
Visit the holy shrines of Lord Badrinath, Lord Kedarnath, Goddess Yamuna and Goddess Ganga with this Char Dham Yatra tour package from Kolkata. From Kolkata, you can conveniently reach Haridwar, the gateway to the Char Dhams. The tour consists of road trips, trekking trails and helicopter rides and perfectly combines spirituality with natural beauty.
9 Nights & 10 Days Char Dham Yatra tour package from Kolkata
If it is your first Char Dham Yatra tour package from Kolkata, we ensure that you would take back a lifetime of memories with you. The itinerary is planned to follow the religious beliefs as well as to adhere to your requirements and convenience. The tour starts at the holy town of Haridwar from where we perform the clockwise circumambulation of the four dhams, namely Yamunotri, Gangotri, Kedarnath, and Badrinath. Though it is a tour with pilgrimage as the main intention, nature and adventure voluntarily become a part of it.

Some of the top highlights of Char Dham Yatra tour package from Kolkata are:
A single tour to seek blessings from Lord Vishnu, Lord Shiva and Goddess Shakti
Holy rivers Yamuna and Bhagirathi, Alaknanda and Mandakini which ultimately meet to form River Ganga
Rejuvenating bath in hot water springs at Yamunotri and Badrinath
Snow-covered peaks, dense forests, lush meadows, mesmerizing cascades, stunning orchards and more Himalayan attractions
Helicopter ride and trekking along with the possibilities of rafting, camping and other activities
Additional attractions like Barkot, Vishwanath Temples, winter abodes of deities and more (as per your choice)
[accordion]
[accordion_content title="Day 01: Kolkata to Haridwar (by air/rail)"]
To start the Char Dham Yatra tour package from Kolkata, you must plan your travel from Kolkata to Haridwar in a way that you arrive in Haridwar in time.
By road, Haridwar is about 1,660 km. from Kolkata. For this long journey, it is not advised that you choose to travel by road. While rail journey is a convenient and cheap option, air travel can also be considered to save time.
For online booking of train/flight tickets, you can take help from our team. Here are some recommendations to help you:


By Rail:
Fortunately, there are 3 direct trains from Kolkata to Haridwar. The train fare between the two places is between INR 630 (sleeper class) and INR 2,400 (AC 2nd class). Here are the details about these three trains:

Upasana Express departs from Howrah Junction in Kolkata at 01:00 p.m. to reach Haridwar at 03:50 p.m. the next day. The train operates every Tuesday and Friday.
Kumbha Express also starts at 01:00 p.m. from Howrah Junction and arrives at Haridwar at 04:15 p.m. the next day. It operates on Monday, Wednesday, Thursday, Saturday and Sunday.
Doon Express operates on all days of the week. It departs from Howrah Junction at 08:25 p.m. and reaches Haridwar at 04:55 a.m. (two nights aboard).
In addition, there are 3 trains from Kolkata which stop at Laksar Junction (about 30 km. from Haridwar). Here are the details:
Kolkata – Jammu Tawi Express starts from Kolkata at 11:45 a.m. to reach Laksar at 10:17 p.m. the next day. It operates on all days of the week.
Howrah – Amritsar Express leaves Howrah Junction at 01:50 p.m. to reach Laksar at 01:07 a.m. (two nights aboard). It also operate son all 7 days.
Howrah – Amritsar Mail starts at 07:10 p.m. from Howrah Junction and reached Laksar at 12:24 a.m. (two nights aboard). It also operates on all days of the week.
Also, you can plan connecting train journey from Kolkata to the cities like Saharanpur, Moradabad and New Delhi and then to Haridwar.


By Air:
Haridwar doesn't have an airport, though the closest one at Dehradun is just about 40 km. away.
However, there are no direct flights between Kolkata and Dehradun.
But, there are many connecting one-stop flights with changeover at New Delhi, Guwahati and other cities. Here are some details:
IndiGo is the most popular airline with superb connectivity between Kolkata and Dehradun. At present, some of the IndiGo flights from Kolkata to Dehradun via New Delhi depart at 04:15 a.m., 06:05 a.m., 07:00 a.m. and so on.
Other airlines that operate connecting flights between the two cities include Jet Airways and Air Asia.
The airfare is between INR 4,000 and INR 7,500. The total air travel duration (including the transit waiting period) is between 6-10 hr.
You may also think of travelling by air to New Delhi and then reaching Haridwar by train or road. We are happy to escort you from New Delhi airport/railway station, Dehradun Airport, Laksar Junction and Haridwar Junction to your booked hotel.
Haridwar means Hari ka Dwar (gateway to Vishnu) or Har ka Dwar (gateway to Shiva). The town is counted among the Sapta Puris (seven holy places) where one can easily attain moksha (salvation).
Haridwar is the place where Lord Vishnu left his footprint, where the drops of elixir of mortality called amrit fell and where many sages performed tough penance. As a result, the place has attained such high level of mysticism that can help anyone get rid of sins and sorrows.

After you check in at the booked hotel, we suggest you to take ropeway rides to the hilltop temples of Chandi Devi and Mansa Devi or simply stroll along the sacred ghats of Ganga.
However, make sure that you register your presence at the Har-ki-Pauri ghat in the evening as it hosts the grand Ganga aarti with thousands of diyas and melodious chants.
Finally, enjoy a comfortable night stay at Haridwar.


[/accordion_content]
[accordion_content title="Day 02: Haridwar to Barkot (176 km.)"]
Start the road trip to Yamunotri which is going to be the first dham of Char Dham Yatra tour package from Kolkata.
The base camp from where the trek to Yamunotri Temple begins is called Janki Chatti. As one can expect huge crowd of pilgrims here, we prefer to stay at the town of Barkot.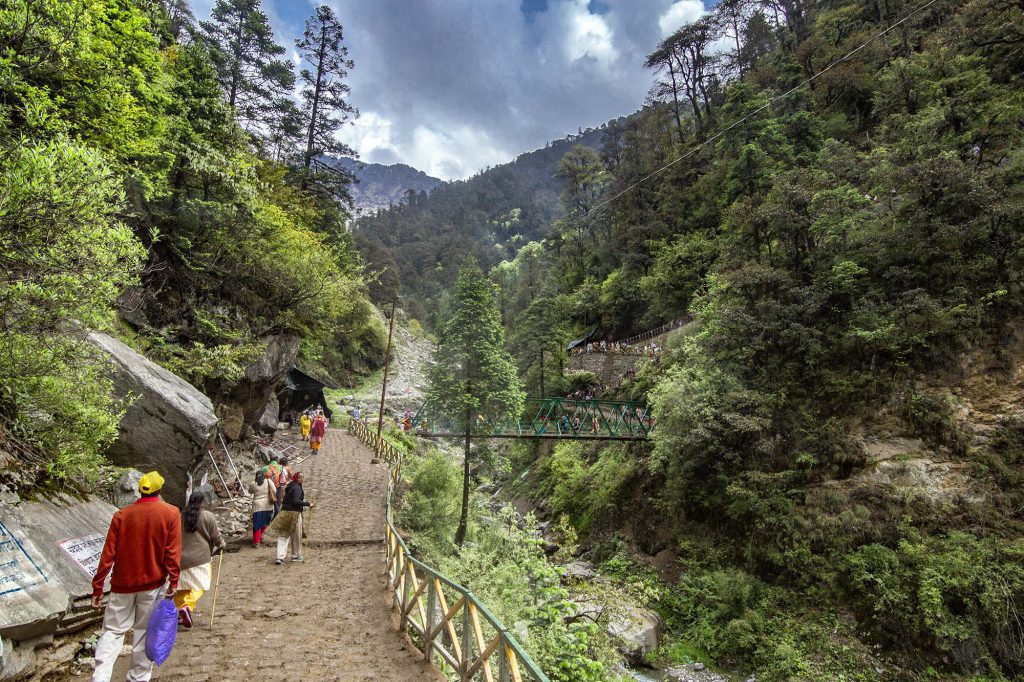 However, it is not the only reason to stay at this place. Barkot is a beautiful site with scenic mountain beauty and apple orchards that would inspire you to spend some time close to the nature.
River Yamuna flows by the town and as a result, there are many camping sites as well as adventures like rafting that become its highlights.
The most amazing part of staying at Barkot is the breathtaking Bandarpoonch Peak of the Himalayas which remains in sight and is indeed a sight to behold.
Enjoy your stay at Barkot.

[/accordion_content]
[accordion_content title="Day 03: Barkot – Yamunotri (50 km. by road and 6.5 km. by trekking) – Barkot"]
You would be delighted to wake up to the sweet chirping of birds rather than the chaotic noises of city life.
After you have breakfast, we continue towards Yamunotri and reach Janki Chatti.
A major highlight of Char Dham Yatra tour package from Kolkata is that you would come across a number of hot water springs. Janki Chatti has many such thermal springs where you can take an absolutely soothing bath before proceeding for the darhsan of Goddess Yamuna.
Begin trekking (you may also choose to cover the route on ponies or in palanquins) watching cloud rolling on the soaring mountains and the chirpy river producing melodies all along the route. As you reach Yamunotri Temple, you would indeed feel Devi Yamuna blessing your body and soul. At Surya Kund's boiling water, you can cook rice tied in a muslin cloth for Prasad. Seek blessings from the goddess and enjoy the magnificence of nature. You may also take a dip in the icy cold water of Yamuna or take the holy water in cans back to home. Finally, get back to Janki Chatti after which we drive you to the hotel at Barkot.

[/accordion_content]
[accordion_content title="Day 04: Barkot – Uttarkashi (80 km.)"]
Staying at Uttarkashi adds value to the entire pilgrimage as there are many holy shrines in and around the town which is located on the bank of River Bhagirathi.
Kashi Vishwanath Temple where Lord Shiva is worshipped as the Lord of the World is definitely the most important site here. Other spots include Kuteti Devi Temple, Manikarnika Ghat, Kandar Devta Temple etc. After relaxing at the booked hotel, you can visit these attractions.

Uttarkashi is also known for adventure activities and hosts Nehru Mountaineering Institute and Nanda Devi Institute of Adventure Spots. There are many trekking trails leading to high altitude lakes, mountain tops, meadows etc. that begin from here.
Plan ahead if you want to pursue these expeditions. Enjoy a wonderful stay at Uttarkashi.
[/accordion_content]
[accordion_content title="Day 05: Uttarkashi – Gangotri (100 km.) – Uttarkashi"]
After breakfast, we continue the journey towards Gangotri Temple dham of Char Dham Yatra tour package from Kolkata.
The route passes through the scenic villages of Bhatwari and Harsil with oak, pine and deodar forests adding charm to the landscapes. Before Gangotri, there is an ancient temple dedicated to Bhairav in the middle of the thick forests of Bhaironghati.
It is believed that praying at this temple after visiting Gangotri fulfils the wishes.

As you arrive at Gangotri Temple, you would be stunned by the beauty of the white granite structure on the bank of River Bhagirathi. You may take a holy dip in its water before praying to the goddess inside the temple. Finally, drive back to Uttarkashi for the night stay.

[/accordion_content]
[accordion_content title="Day 06: Uttarkashi – Guptkashi (199 km.)"]
Start the road trip to the third dham of Char Dham Yatra tour package from Kolkata, called Kedarnath.
It is worth mentioning that the trek route to reach the temple is about 16 km. long. If you are not physically fit or lack time, helicopter is the best alternative for you.
As we have included helicopter ride in this package, we arrange accommodation for you at the nearby town of Guptkashi.
Guptkashi is located on the bank of River Mandakini and is home to yet another Kashi Vishwanath Temple dedicated to Lord Shiva.
It is one of the few places where you would find Ganga and Yamuna at the same place as two small streams from these rivers collect their water in what is called Manikarnika Kund.
Among the many avatars of Shiva is his Ardhnarishwar (half man half woman) avatar which endorses the belief of unity of opposites. Guptkashi hosts a temple dedicated to this avatar. After relaxing at the booked hotel, visit these places.

Guptkashi has many other attractions like Kalimath (one of the 108 Shakti peethas, about 13 km. away), Ukhimath (about 18 km. away, famous for Omkareshwar Temple) and Chopta (48 km. away, famous as mini Switzerland).
Excursions to these places can be included in the package at an extra cost basis. Enjoy a comfortable night stay at Guptkashi.
[/accordion_content]
[accordion_content title="Day 07: Guptkashi – Phata (by road 15 km.) – Kedarnath (by helicopter) – Phata – Guptkashi"]
Reach the helipad at Phata from where you would fly to Kedarnath helipad. During this short ride, you would be captivated by the mesmerizing landscapes below.
Take a short walk from the helipad to reach the temple of Kedarnath which enjoys the absolute glory of nature's panorama.
River Mandakini flowing near the temple has crystal clear water which sanctifies the whole place. Inside the temple, you would find a conical-shaped Shiva Lingam which is revered as a Jyotirlinga.

Pray at the temple and enjoy the positive vibes that make the whole environment pure and rejuvenating. Finally, get back to the helipad and fly back to Phata. From Phata, we drive you back to Guptkashi for night stay. \n
[/accordion_content]
[accordion_content title="Day 08: Guptkashi – Badrinath (186 km.)"]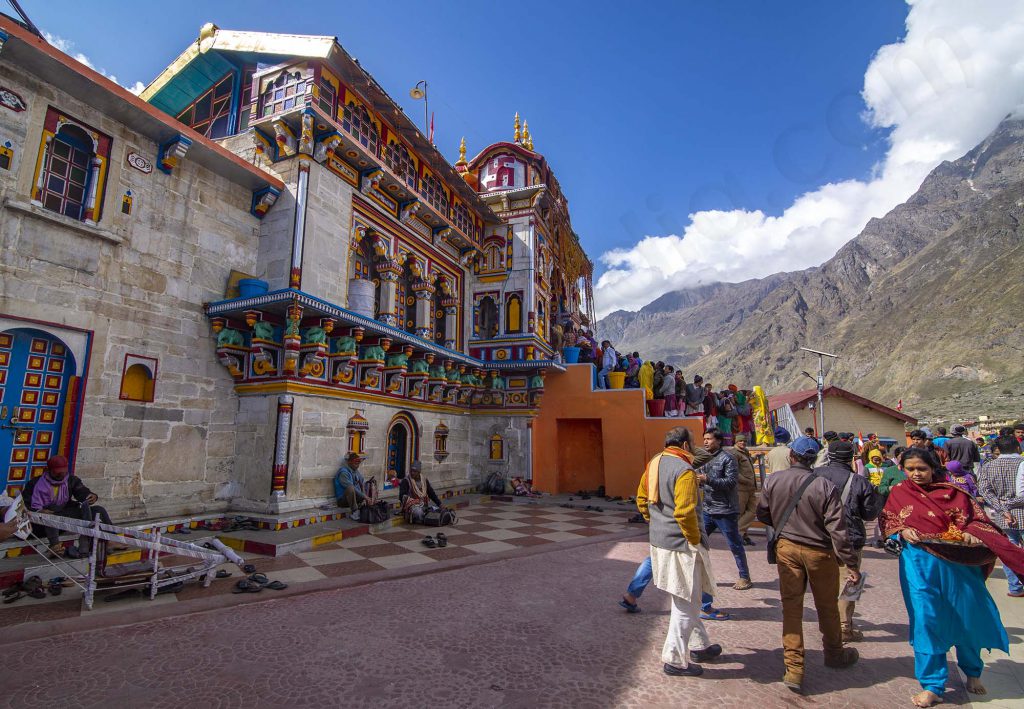 Start the drive to the fourth dham of Char Dham Yatra tour package from Kolkata, called Badrinath Temple which is located on the bank of River Alaknanda. The temple is well-connected by road to all major cities in the region.
The entry is through a beautiful gateway called Singhdwar (the gate of lions) and the temple boasts of beautiful sculptures.
It is the seat of Lord Badrinath (also known as Badri Vishal) which is another name of Lord Vishnu.
Check in at the booked hotel and take some rest. Afterwards, we escort you to the temple at the time of evening aarti.
Please note that you can be a part of the aarti inside the temple if you book it in advance.
The different aartis in the evening include Swarna Aarti, Kapoor Aarti and Shayan Aarti and the booking cost is between INR 300 and 3,500 per person. At the end of the day, enjoy comfortable night stay at Badrinath.
You may read about Badrinath Temple pooja timings and book your Aarti well in advance.
[/accordion_content]
[accordion_content title="Day 09: Badrinath Temple – Rudraprayag (155 km.) "]
Reach the temple by 04:00 a.m. if you wish to attend the early morning aarti. The morning aartis include Maha Abhishek and Abhishek Pooja that require booking in advance at the cost around INR 4,000 per person. After this amazing experience, visit the adjoining thermal spring pool called Tapt Kund where you can enjoy another relaxing bath.

The nearby attractions include Ganesh Cave, Vuas Cave, Narad Kund, Brahma Kapal, Charanpaduka etc. You may also join us on small excursions to the Mana Village and Vasudhara Falls. Finally, we leave Badrinath and head towards Rudraprayag for the night stay. The town hosts the confluence of rivers Alaknanda and Mandakini after they respectively flow from Badrinath and Kedarnath. Enjoy the comfortable night stay here.
[/accordion_content]
[accordion_content title="Day 10: Departure"]
After this amazing itinerary of Char Dham Yatra tour package from Kolkata, we drive you to Haridwar or Delhi. The tour ends here.
[/accordion_content]
Travel Tips: Char Dham Yatra tour package from Kolkata require a great amount of planning for which we offer assistance in the form of the following useful tips:
Dates: Char Dham Yatra usually starts in April/May and ends in October/November. We would soon update the exact dates for 2019. However, you may consult with us in advance about:
Yatra registration which is compulsory
Air/train tickets from Kolkata to Haridwar/Dehradun/Delhi
Booking of ponies and palanquins
Online aarti and pooja booking
What to pack: Apart from woollens and other winter clothes, you would need good walking shoes, cold weather protection, hats/caps, raingear, important medicines and photo ID proofs (you are advised to carry few photocopies along with the original). Rather than packing cameras and tablets, choose a smartphone with good camera resolution and memory card. Don't forget to carry additional SIMs (preferably of different network providers). Also pack energy foods like chocolates and dry fruits along with glucose.
Be Safe: Keep a watch on the weather updates and also pay heed to our guidelines. Don't wander to the lonely places alone. It gets dark early in the hilly areas. Make sure you reach your hotel rooms on time. It is advised that you prepare yourself physically to fully enjoy the trip even when it turns demanding.

Please note that no photography/video making is allowed inside the main shrines of the package. Avoid carrying leather items to the holy places.