Kedarnath Helicopter Service
Kedarnath Helicopter Service
One among the most spiritual Hindu pilgrimages in Himalayas is a pilgrimage to Kedarnath Jyotirlinga. Owing to difficult terrain which involves trekking of about 18.5 km from Gaurikund to Kedarnath, Kedarnath Helicopter Service is operated by several aviation companies.
In fact, if you travel by road from Guptkashi to Gaurikund, you would find several helipads located on both sides of the road especially at Phata, Sersi and Sitapur.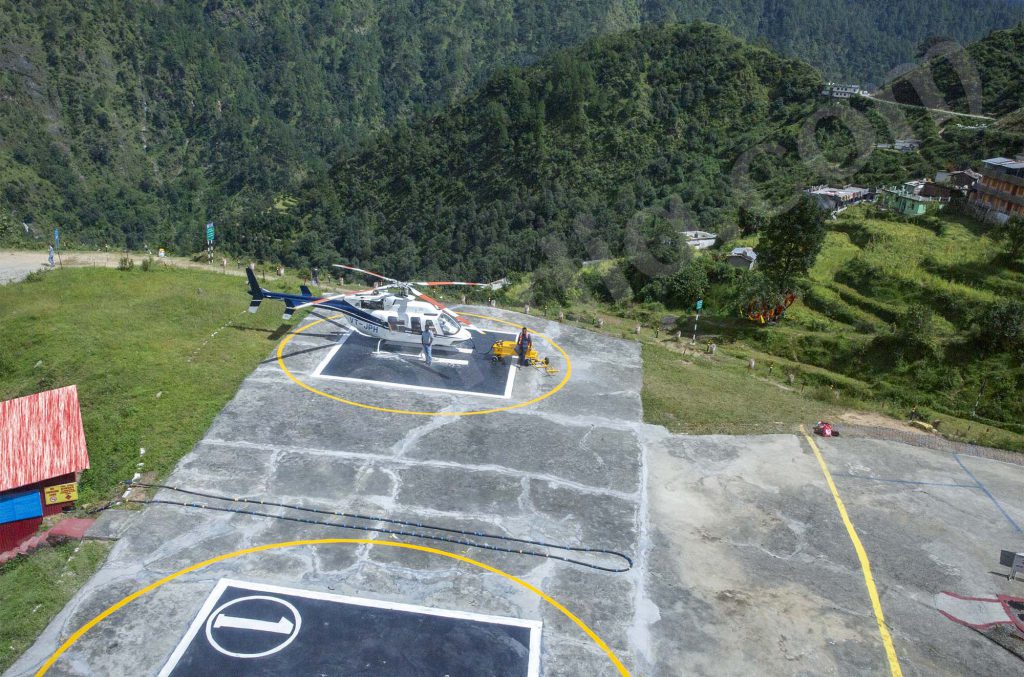 Depending upon the location of the helipad, the cost of the Kedarnath helicopter service ticket varies from INR 7500 to INR 6500.
Triptochardham.com organises tour to Kedarnath Jyotirling each year during the months of May to October.
The best time to book this tour is for the months of May & June and thereafter between September 2nd week and October 3rd week. This is so because during rest of the period the weather creates problems for the smooth conduct of Kedarnath helicopter service.
Kedarnath Helicopter Service Package : The Journey Starts
This package starts from Haridwar/Dehradun as our representative picks you up early in the morning from the designated hotel/address.
(Please note that you would be required to reach Haridwar/Dehradun one day in advance to the travel date and stay at your own cost)
After some formalities at the RTO check posts at Rishikesh, the vehicle drives you to Guptkashi, the gateway to Kedarnath Shrine.
As we drive from Rishikesh, we find that the mighty Ganga is flowing with rapids other side of the road.
You might also occasionally notice the white water rafters negotiating the rapids specially at Kaudiyala.
Kedarnath Helicopter Service : The First Destination
The first major destination that would greet you would be Devprayag where you would see river Bhagirathi flowing from one side and Alaknanda flowing from the other and meeting at their confluence.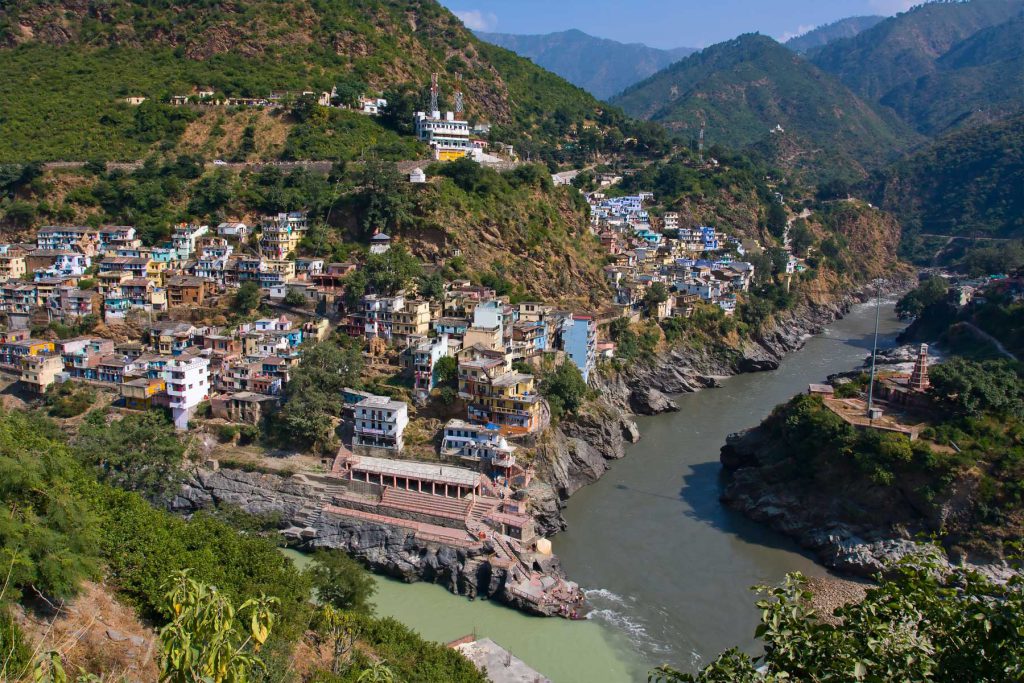 You may stopover on the way to visit the famous Raghunath Temple at Devprayag.
Thereafter, continue your journey towards Guptkashi.
Kedarnath Helicopter Service : Next Halt :Dhari Devi Temple
Driving further towards Guptkashi, as one drives past Srinagar town of Garhwal, on the right side one would cross the Dhari Devi Temple.
Not known to many before the tragedy had struck at Kedarnath in the year 2013, it is believed that the tragedy at Kedarnath was owing to the dismantling of the temple of Dhari Devi where it originally stood.
Today the temple is located beautifully in the river on raised platform which one has to go through a bridge dotted with bells leading to the temple.
Later after darshan, continue journey to Guptkashi.
Kedarnath Helicopter Service : The next confluence at Rudraprayag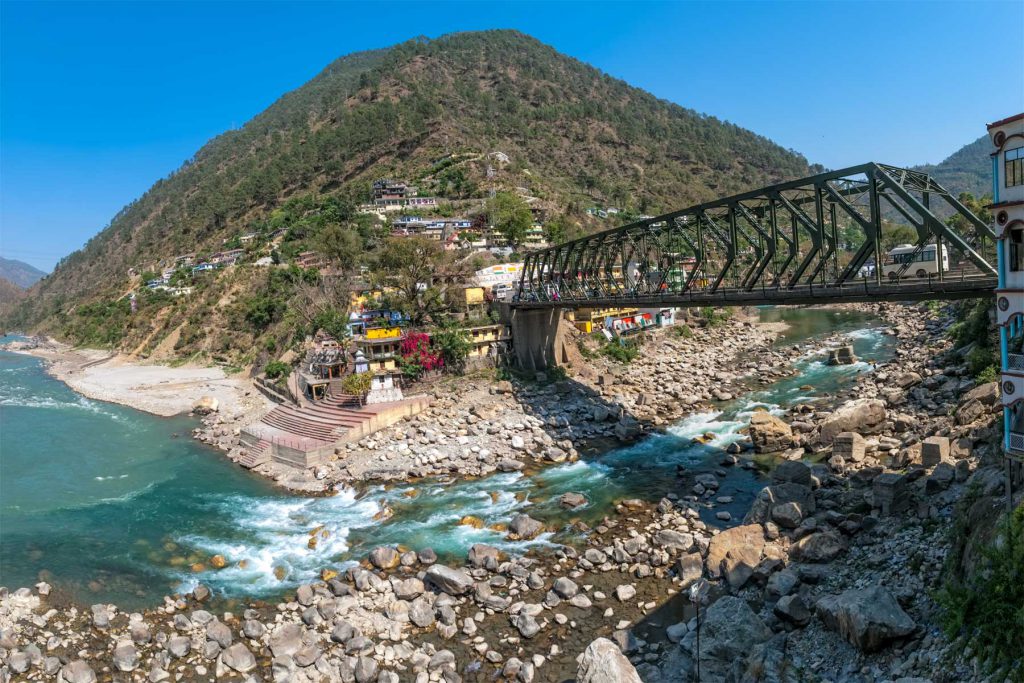 Driving further about 40 Kms from Srinagar, you would reach Rudraprayag, which is district headquarters and the place where river Mandakini coming from Kedarnath meets river Alaknanda.
After spending some time, continue your journey to Guptkashi passing through the small hamlets of Augustmuni and Chandrapuri.
The distance between Rudraprayag and Guptkashi is about 60 km and it takes about 2.5 hours.
Arrival & Check in at Resort
Arrive at the pre-booked 3* deuxe resort and check in. Rest of the day shall be at leisure.
Later in the evening, enjoy buffet dinner.
Overnight stay shall be at the resort.
Fly Through Kedarnath Helicopter Service
Early morning, at about 5 am, get up and after a light breakfast, reach helipad latest by 6 am at Phata which is located about 14 km from Guptkashi.
At the helipad, the staff shall get your weight done and boarding pass shall be issued to you.
You would be waiting in the waiting area.
Later as per your turn you would fly to Kedarnath.
Distance Between Kedarnath Helipad To Temple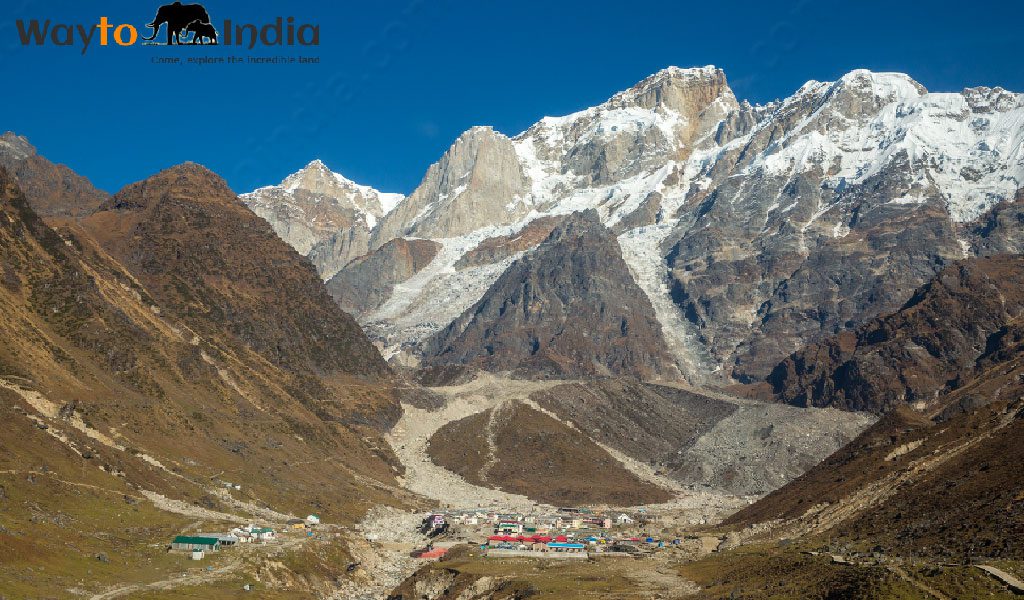 Many a time the pilgrims ask the question as to how much they would be required to walk to the temple as they arrive at Kedarnath helipad.
The distance between Kedarnath Helipad and Kedarnath temple is roughly about 300 meters and it is a steep climb. Thus, those of the Yatris who are infirm and cannot walk are suggested to take porters who have large baskets tied to their backs to reach the temple from Helipad at their own cost.
We would introduce you to one of the Pandit ji at Kedarnath who might assist you for your Darshan.
Please note that those Yatris who opt for same day tickets for Kedarnath have to buy priority darshan slip at their own cost directly from the helipad or Shrine board office at Kedarnath.
After darshan at the temple, reach back Kedarnath helipad from where you would fly back to Phata helipad.
Upon arrival, reach back hotel.
Rest of the day shall be at leisure. You may visit some of the famous temples of Guptkashi area such as Triyuginarayan Temple, Omkareshwar Temple etc.
Dinner and overnight stay shall be at resort in Guptkashi.
Travel back to Haridwar/Dehradun
Early morning, after breakfast at the resort, drive back to Haridwar Railway Station/Dehradun Airport where our driver shall drop you.
End of the tour.
Per Person Cost Of Tour(Kedarnath Helicopter Service)
| | | | | |
| --- | --- | --- | --- | --- |
| No Of Persons | Per Person Cost | Car | Rooms | Extra Bed |
| 01 Person | Rs 31,500 + GST | Swift Dzire | 01 | 0 |
| 02 Persons | Rs 21,000 + GST | Swift Dzire | 01 | 0 |
| 03 Persons | Rs 18,500 + GST | Swift Dzire | 01 | 01 |
| 04 Persons | Rs 18,625 + GST | Innova | 02 | 0 |
| 05 Persons | Rs 15,380 + GST | Innova | 02 | 01 |
| 06 Persons | Rs 16,750 + GST | Innova | 03 | 0 |
Please note that the above cost is per person cost and not total cost.Total cost would be the per person applicable cost X number of persons.
What's Included?
All travel from Haridwar/Dehradun to Guptkashi and back.
02 Nights accommodation in Deluxe resort with Dinner & Breakfast.
Helicopter Ticket : Phata-Kedarnath-Phata
What's Not Included?
Any expenses not mentioned uner What's Included above.
Priority Darshan Slip cost or any cost of Pooja etc.
For booking this package, you may write to us on info@waytoindia.com or call us on 888 222 44 22.
Please note that the helicopter tickets are very limited and we thus suggest that you book your package well in advance.