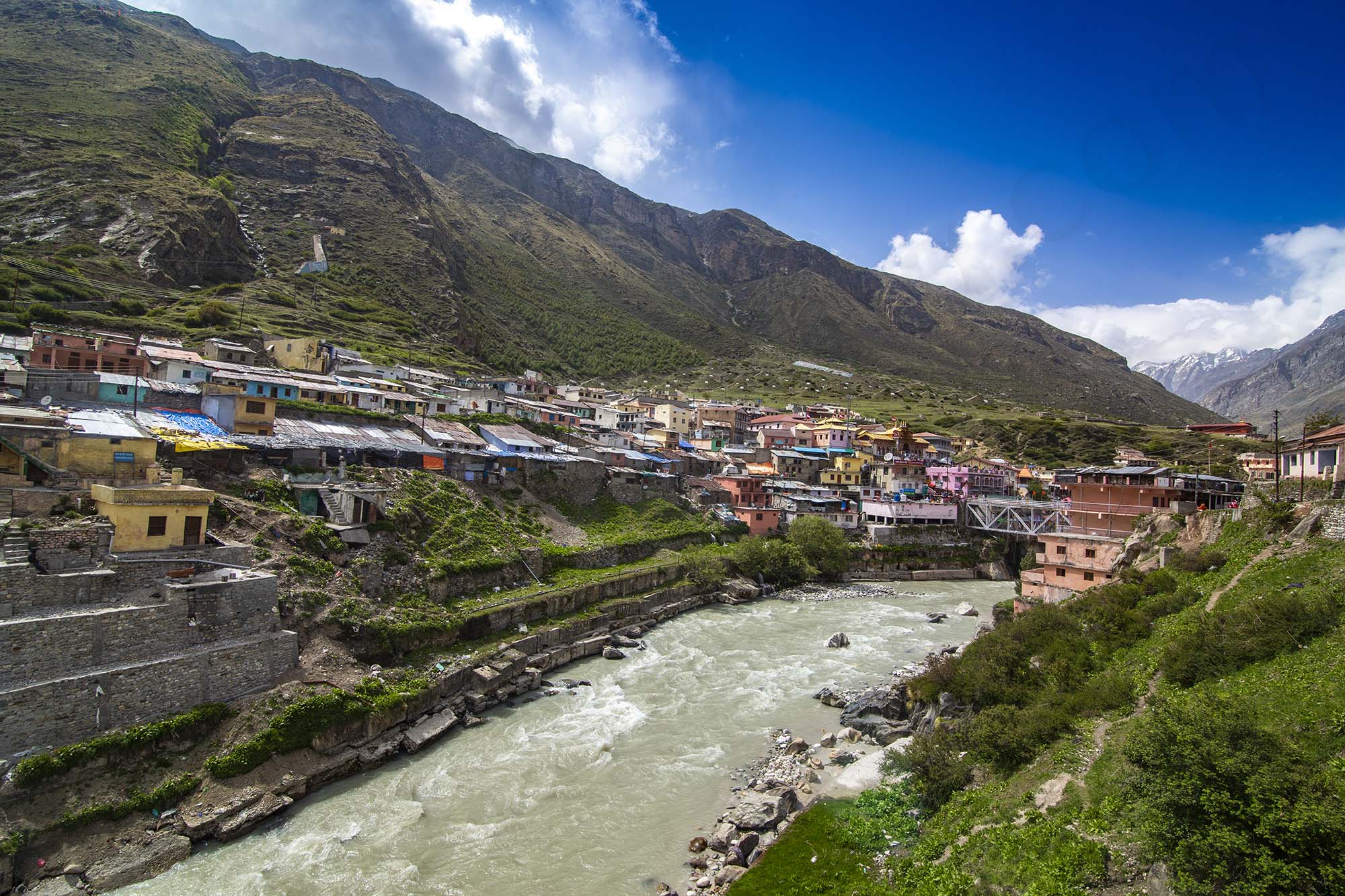 Char Dham Yatra Tour Package From Surat
Char Dham Yatra tour package from Surat is among the top pilgrimage itineraries in India. Starting from Surat, you get to explore the high-reach temples, holy rivers, riverside towns, thermal springs, soaring Himalayas, lush green valleys and a lot more. Trek to Yamunotri, reach Gangotri and Badrinath by road and fly to Kedarnath in helicopter.
9 Nights & 10 Days Char Dham Yatra tour package from Surat

Char Dham Yatra tour package from Surat is a carefully-planned itinerary for those who wish to undertake the annual Chota Char Dham pilgrimage organized between April/May and October/November after travelling hundreds of miles from the 'Diamond City' Surat. The four shrines included in the circuit are Yamunotri (near the source of River Yamuna), Gangotri (near the source of River Ganga), Kedarnath (one of the 12 Jyotirlingas) and Badrinath (one of the 108 Divyadesams). The whole region has unbound wealth of ancient temples and natural vistas that encourage the visitors to spend more days here.

We have included accommodation, local transport, helicopter ride to Kedarnath etc. in the Char Dham Yatra tour package from Surat. However, we are there to help pilgrims in booking flights/trains from Surat as well as to register online for the yatra. In addition, we provide travel tips about several nearby places and attractions like waterfalls, meadows, trekking trails, rafting adventures etc. that can be included in the itinerary as per your wish. Make sure that you go through the itinerary as well as the travel guides on this website to plan a memorable tour to this spectacular land called Uttarakhand.
Day By Day Tour Plan For Char Dham Yatra tour package from Surat
Day 01: Surat to Haridwar (by air/rail)
On the first day of Char Dham Yatra tour package from Surat, make sure you arrive in Haridwar on time. Travelling by road is a bad idea as Haridwar is almost 1,380 km. from Surat. You can either plan the journey by rail or air. However, it is necessary that you book train or flight tickets well in advance. WaytoIndia team helps tourists in online booking to grab the best travel deals available. Here's a small guide to help you plan the journey:
By Train: Travelling from Surat to Haridwar by rail is convenient as there are 4 trains available for the journey. Please note that the train fare for the journey is between INR 550 (sleeper class) and INR 2,200 (AC 2nd class). Check out which trains are available:
Mumbai Bandra – Dehradun Express which departs from Surat at 04:45 a.m. and reached Haridwar at 02:40 p.m. the next day. It is the only train available on all 7 days of the week for the route.
Kochuveli – Dehradun SF Express which departs from Surat at 03:47 p.m. and arrives at Haridwar at 03:50 p.m. the next day. The train is available only on Saturday.
Valsad – Haridwar SF Express which departs from Surat at 04:50 p.m. and reaches Haridwar at 04:15 the next day. It is available only on Tuesdays.
Bandra Terminus – Haridwar SF Express which departas from Surat at 05:07 p.m. to reach Haridwar at 03:50 p.m. the next day. It is available only on Wednesdays.
Apart from these direct trains, you may also plan a train chains. For example, you may travel by one train from Surat to New Delhi and then board another train to reach Haridwar.
By Air: Tourists planning to reach Haridwar by air board flights to the Jolly Grant Airport in Dehradun which is about 40 km. away. From Surat, there are no direct flights to reach Dehradun. However, one-stop connecting flights are frequent if you are comfortable making a stop at the cities like New Delhi, Jaipur etc. Here are some options:
Air India flights from Surat to Dehradun are available at 07:45 a.m. and 09:25 p.m.
SpiceJet also operates flights for the route at 08:15 a.m. and 08:55 p.m.
IndiGo has one connecting flight which departs at 08:50 a.m.
Please note that the total air travel duration may vary between 5 to 24 hr. The airfare starts from INR 3,800 and may reach up to INR 7,500. Also, the timings, fares and availability of these flights may change over time.
You may travel by air till New Delhi and then travel to Haridwar either by train or by road. Discuss with us your exact plan so that we can fix the best pickup point at New Delhi/Dehradun airport or New Delhi/Haridwar railways station to start this Char Dham Yatra tour package from Surat.
The holy town of Haridwar requires no introduction as it is the main place where Hindus immerse the ashes of their dead relatives with the belief that River Ganga grants moksha to them. Mentioned in the old scriptures by the names like Gangadwar (gateway to Ganga) and Mayapuri, the town has uncountable temples, sacred ghats and mythological places. You should plan the itinerary in a way that you get enough time to explore the town. There are nearby attractions like Rishikesh (about 20 km. away), known for temples, suspension bridges, ashrams, yoga and meditation and rafting adventures.
We escort you to the booked hotel where you can take some rest. Later, visit some of these places or rake the ropeway rides to hilltop temples. Another suggestion is to attend the Ganga aarti in the evening during which the devotees praise the goddess with hundreds of burning lamps on both banks of the river. Spend first night at Haridwar.
Day 02: Haridwar to Barkot (176 km.)
You may like to take a holy dip in Ganga in the early morning after which we drive to Barkot. Located close to the Yamunotri Dham, the town is the perfect place to stay before you trek to the temple. The route from Haridwar to Barkot unveils attractions like the popular hill station of Mussoorie, the pristine Kempty Falls and the mysterious temple complex of Lakhamandal. You may include these attractions in the Char Dham Yatra tour package from Surat.
As you arrive at Barkot, we escort you to the booked hotel. Relax and go out to savour the natural beauty and tranquillity of the place. Enjoy the sights of Bandarpoonch Peak peeping from a distance and River Yamuna on its uninterrupted journey. You may also visit the apple orchards and discover a lot of birds. Mountain climbing, rafting and trekking are few adventures possible here. Spend the second night at Barkot.
Day 03: Barkot – Yamunotri (50 km. by road and 6.5 km. by trekking) - Barkot
After breakfast, we resume the journey to Yamunotri Temple via a number of 'chattis' like Syanachatti, Ranachatti, Hanuman Chatti and Janki Chatti. These are small villages that offer chatt (shelters) to the pilgrims and are located on the bank of River Yamuna. Hanuman Chatti is famous as the base for numerous adventure treks while Janki Chatti is known for its thermal springs. We drive on the scenic route alongside Yamuna to reach Janki Chatti from where the trek to the dham begins.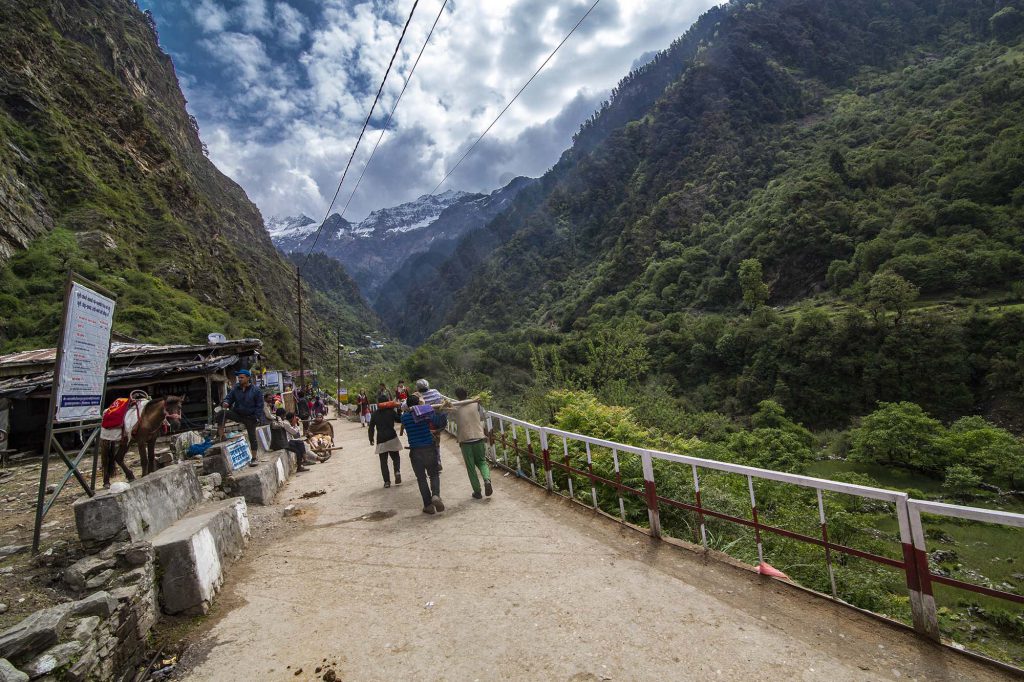 Once at Janki Chatti, you can get refreshed taking bath in the rejuvenating water of the thermal springs. Start the trek (ponies/palanquins are also available) and reach the beautiful temple set adjacent to the face of a gigantic mountain. Buy raw rice, tie them in a muslin cloth and cook them in Surya Kund (the boiling hot water spring) and serve them as prasada to Goddess Yamuna inside the temple. A sacred rock called Divya Shila is located close to the temple. Finally, get back to Janki Chatti and drive back to your hotel. Spend the third night of Char Dham Yatra tour package from Surat at Barkot.
Day 04: Barkot – Uttarkashi (80 km.)
From the abode of River Yamuna, you would head towards the abode of River Ganga which originates from Gangotri Glacier by the name of River Bhagirathi and is worshipped at Gangotri Dham. You would be staying for the day at Uttarkashi which is a popular shelter for pilgrims of Char Dham Yatra. River Bhagirathi, River Asi and River Varan add glory to this holy town which has its own share of popular temples like Vishwanath Temple, Kuteti Devi Temple and more.
Check in at the hotel on arrival in Uttarkashi. Relax and then visit some of these temples. You would feel the fresh level of energy listening to the roaring Bhagirathi descending the terrain. If time allows, visit Maneri Dam, Nehru Mountaineering Institute and other attractions. Like Hanuman Chatti, Uttarkashi is also a popular trekking base. Spend the fourth night of Char Dham Yatra tour package from Surat at Uttarkashi.
Day 05: Uttarkashi – Gangotri (100 km.) – Uttarkashi
Start early towards Gangotri dham if you wish to spend some time admiring the breathtaking beauty on the way. You would come across the place called Gangnani which is famous for another thermal spring of the region and Sage Parasara Temple. Harsil is another popular place enroute to Gangotri offering remarkable beauty of the sky-touching peaks and Bhagirathi River. The Village Mukhba near Harsil is the place where the idol of Goddess Ganga is brought from Gangotri Temple in winters (after the Char Dham yatra ends).
Arrive at Gangotri Temple which is made of white granite and has beautiful backdrop of the Himalayas. You may take a dip in the holy Bhagirathi water before praying to the goddess inside the temple. Other popular spots near the temple are Bhagirath Shila and Jalmagna Shivalingam. After visiting the second dham of Char Dham Yatra tour package from Surat, drive back to the hotel. Spend fourth night of the tour at Uttarkashi.
Day 06: Uttarkashi – Guptkashi (199 km.)
After the Gangotri dham, you would be heading towards the third dham called Kedarnath. As it is going to be a long journey, you would be staying Guptkashi. On the way to Guptkashi, you would come across the Budha Kedar Temple which hosts one of the biggest Shiva Lingams of North India. It is believed that the Pandavas met Lord Shiva disguised as an old (budha) man at this place which is located at the confluence of rivers Balganga and Dharamganga.
Check in at the booked hotel in Guptkashi which is also a venerated pilgrimage town on the bank of River Mandakini. You can later visit Vishwanath Temple, Ardhnareshwar Temple and Manikarnik Kund, which collects water from two underground streams that are believed to originate from the holy Yamuna and Ganga. In the Char Dham Yatra tour package from Surat, you may include the nearby tourist attractions like Ukhimath (18 km. away), Kalimath (13 km. away) and Chopta (about 48 km. away). Spend the sixth night at Guptkashi.
Day 07: Guptkashi – Phata (by road 15 km.) – Kedarnath (by helicopter) – Phata – Guptkashi
A short drive would take you to Phata Helipad from where you would fly in a helicopter to Kedarnath Helipad taking the Kedarnath Helicopter service. From there, a short walk would lead to Kedarnath dham which serves as the seat of Lord Kedarnath (Lord Shiva). Being a Jyotirlinga, the place is believed to grant moksha and forgiveness for sins. Pray to the swayambhu Shiva Lingam and experience the spiritual vibes that dominate the entire area.
River Mandakini descending from the towering Himalayan peaks behind the temple would leave you in awe. If time allows, visit the Bhairav Nath Temple near the main temple. It is dedicated to Bhairav, a fierce form of Lord Shiva, who is believed to be the protector of Kedar Region. After enjoying the enthralling views of Kedar Valley, get back to the helipad. Fly back to Phata from where we drive you back to the hotel. Spend the seventh night of Char Dham Yatra tour package from Surat at Guptkashi.
Day 08: Guptkashi – Badrinath (186 km.)
Start the drive to the fourth dham called Badrinath which hosts Badrinath Temple dedicated to Lord Vishnu. On the way, you would come across Gopeshwar which is home to Gopinath Mandir. Here you would find a huge trishul (trident) which is believed to belong to Shiva. Another attraction on the route is Joshimath which is another pilgrimage town known for Narsingh Temple (winter home of Lord Badrinath), Bhavishya Kedar Temple, hot water springs of Tapovan and the thrilling Joshimath-Auli ropeway.
Check in at the booked hotel as you reach the town of Badrinath which is located on the bank of River Alaknanda. It would be the time for evening aartis and you can join us to attend these prayers that would spellbind you. Retire to the hotel as you would be spending the eighth night of Char Dham Yatra tour package from Surat at Badrinath.
Day 09: Badrinath Temple - Rudraprayag (155 km.)
If you have booked it in advance, get ready for the early morning aarti (may cost around INR 4,000 per person) at Badrinath Temple at around 04:00 a.m. Seek the blessings from Lord Badrinath who is present inside the temple in the form of a black shaligram idol. After this, you would find the last thermal spring of the tour which is known as Tapt Kund. You may take a dip in its therapeutic water and attain absolute relaxation. Later, you may visit Brahma Kapal, the site where the rituals for the dead ancestors are performed.
In this Char Dham Yatra tour package from Surat, you may include other attractions in and around the town. For example, the ancient caves of Ganesh and Vyas and Narad Kund formed by Alaknanda are among the top attractions. Mana Village is only few miles away and is home to Bhimpul and other places linked to Mahabharata and Pandavas. Finally, we drive you to Rudraprayag where you would be spending the last night of the tour.
Day 10: Departure
In the morning, have some wonderful views of the confluence of Alaknanda with Mandakini which flow further to meet Bhagirathi to form Ganga. Then, we drive you to Haridwar or Delhi and bid farewell as Char Dham Yatra tour package from Surat ends.
Travel Tips: Char Dham Yatra tour package from Surat can be made absolutely memorable if you follow the following travel tips and suggestions:
WaytoIndia updates the Char Dham Yatra dates as soon as they are announced. So, make sure you bookmark our website to follow the same.
Registration begins as soon as the dates are announced. If you don't know the procedure, we can help you in the same.
Book flights/trains to Haridwar/Dehradun/Delhi online in advance. We are ready to help you in this.
Let us know about your requirements if you wish to stay at camps near Barkot.
The best months for the yatra are May, June, late September, October and November. We book yatra package in July, August, and September as well, but make sure that you follow the weather updates about the monsoons.
Please stick to the schedules as landslides may block the roads at any point in time. For example, Dharasu Bend on the way from Barkot to Uttarkashi is prone to landslides and it may take hours before the roads get cleared.
ATMs are not available at places like Gangotri and Yamunotri. Make sure you withdraw enough cash at the preceding destinations.
Mobile connectivity can be an issue at higher altitudes. The best network providers are BSNL, Jio, and Vodafone.
Plastic bags are strictly prohibited at char Dham destinations, as indicated on the notice boards at each of these places. Make sure you follow the norms.
Follow your heart while making donations at various temples. Don't fall prey to the tricks of the priests and touts.
Read about the Char Dham yatra tour package by helicopter on the blog https://travel-blog.waytoindia.com/badrinath-yatra-by-helicopter/